Small Business Accounting Solutions
Del Real Tax Group offers a fixed fee monthly accounting services package as a solution to the small business' tax and accounting needs.  Why partner with Del Real Tax for your accounting needs? For starters, we are a small business too. We're dealing with the same daily tasks of managing a business, bringing in new clients, and paying bills. We know the challenges our business clients face and, more importantly, we've figured out the best way to manage our practice to ensure success and provide the greatest level of customer service to our clients.
Not only do we want our clients to trust in us, but we feel that it is our role to help educate clients on the best practices for business profitability. To that end we spend time with our clients, providing education, information, and timely data to help them make the most strategic business decisions possible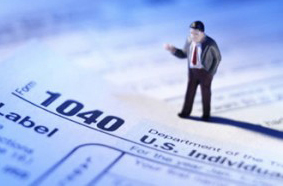 You Handle Bills and Deposits — We Take Care of the Rest
Our firm will handle everything from financial statement reporting and bank reconciliations to payroll and general ledger maintenance. We also take the time to review your data with you on a regular basis to ensure you understand your financial status and have the information at hand to make sound business decisions.
Think of us as your outsourced accounting department with individual and business tax support. Our Comprehensive Accounting Solution offers small businesses relief from the day-to-day accounting hassles. As your trusted advisor, we reconcile your accounts, file your sales tax, process payroll payments and payroll tax returns, furnish financial statements, produce W-2's, produce 1099's, prepare tax returns and provide valuable financial and tax advice throughout the year.
As a business owner, your success depends upon your ability to focus on your core business. Don't let the bookkeeping, payroll or sales tax filings become a burden. Small and medium sized businesses turn to Del real Tax Group for quality Tax and Accounting services delivered with by professionals.
Everything You Need Under One Roof
Most accountants only handle one aspect business finance. You may see one consultant for accounting, another for taxes, a third for payroll, and even a fourth for business consulting and forecasting. When you hire Del Real Tax, you get a firm that specializes in all aspects of small business accounting located under one roof and for a monthly affordable fee.
Entity Selection and Restructuring
Your business entity has a large impact on your taxes  and other liabilities. From your company's inception through its growth and development, Del Real Tax Gruop can advise you on choosing an entity type and later restructuring if advantageous. With our knowledge and expertise, you will always be receiving the most advantageous entity type for the functions your business performs.